About the Book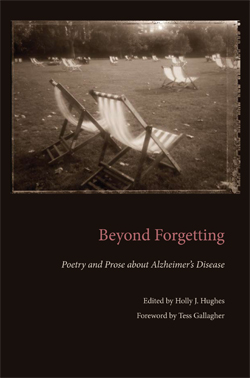 Holly Hughes, the editor of Beyond Forgetting: Poetry and Prose about Alzheimer's Disease, was inspired to begin this anthology after losing her mother to Alzheimer's disease in 2001. When she put out a call for submissions, she was overwhelmed by the volume of response--500 submissions within a few months--clearly, there were many writers with similar experiences; clearly there was a need for this collection. Renowned poet Tess Gallagher, having just lost her mother to Alzheimer's disease, agreed to write the Foreword. With assistance from an editorial board, the editor selected poetry and prose from 100 writers, then asked each to write a short personal note to provide context for their work, believing that would make it more useful to readers. The editor's goal in putting together this unique collection was to provide a literary portrait encompassing the full range of the experience of caring for someone with Alzheimer's disease, a collection that would be a valuable companion for anyone embarking on this difficult path.
Literature and Medicine Series
Kent State University Press agreed to publish the manuscript as part of their highly regarded Literature and Medicine Series, edited by Carol Donley and Martin Kohn. The editors are cofounders of the Center for Literature, Medicine, and Biomedical Humanities at Hiram College. Since 1990 the Center has brought humanities and the healthcare professions together in mutually enriching interactions, including interdisciplinary courses, summer symposia, and the Literature and Medicine book series from the Kent State University Press.
The first three anthologies in the series grew out of courses in the Biomedical Humanities program at Hiram. Then the series expanded to include original writing and edited collections by physicians, nurses, humanities scholars, and artists. The books in the series are designed to serve as resources and texts for healthcare education as well as for the general public. Beyond Forgetting: Poetry and Prose about Alzheimer's Disease is #16 in the series.
---