Biographies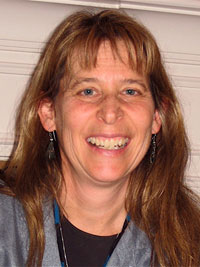 Holly Hughes, Editor

Holly Hughes's chapbook Boxing the Compass won the Floating Bridge Press chapbook contest and was published in 2007. Her poems have been nominated for an Arts and Letters and Pushcart prize and have appeared in a number of literary magazines and anthologies, including Dancing With Joy: 99 Poems (Random House), The Poets Guide to the Birds (Anhinga Press), Working the Woods, Working the Sea (Empty Bowl Press), Come Together: Imagine Peace and America Zen: A Gathering of Poets (Bottom Dog Press). A graduate of the Rainier Writing Workshop MFA program at Pacific Lutheran University, she spends summers working as a naturalist in Southeast Alaska and winters teaching writing at Edmonds Community College, where she co-directs the Convergence Writers Series and is the co-coordinator for the Sustainability Initiative. She divides her time between Indianola and Chimacum, Washington.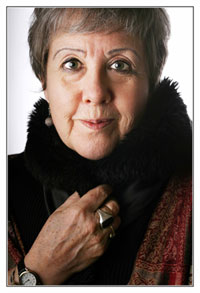 Photo by Brian Farrell
Tess Gallagher is the author of eight volumes of poetry, including Dear Ghosts and Moon Crossing Bridge. She is presently working on her New and Selected Poems. The Man from Kinvara: Selected Stories will be out in fall 2009. In 2008, Blackstaff Press in Belfast and Eastern Washington Press in America published Barnacle Soup-Stories from the West of Ireland, a collaboration with the Irish storyteller Josie Gray. She recently saw to the publication of her late husband Raymond Carver's Collected Stories (from Library of America), including Beginners, the initial manuscript of What We Talk About When We Talk About Love. Distant Rain, a conversation with the highly respected Buddhist nun Jacucho Setouchi, of Kyoto, is both an art book and a cross-cultural moment.
Gallagher is also the author of Amplitude, Soul Barnacles: Ten More Years with Ray, A Concert of Tenses: Essays on Poetry, and two collections of short fiction: At the Owl Woman Saloon and The Lover of Horses and Other Stories. She spends time in a cottage on Lough Arrow in Co. Sligo in the West of Ireland and also lives and writes in her hometown of Port Angeles, Washington.
Contributors
Natural Elements.
, a native Floridian, is an artist, writer, and teacher. She has written and illustrated over a dozen children's books. Her poetry, influenced by the natural world and her indigenous heritage, has been published in an­thologies and journals and won her several awards, including the Taos Sum­mer Writers' Conference Merit Scholarship for poetry and the Writer's Voice Hibiscus Award for her chapbook
In Everything, Second Chances, Commandments at Eleven, and Driving to Distrac­tion, which was featured on Garrison Keillor's The Writer's Almanac. In 2005, he coedited A Millennial Sampler of South Carolina Poetry. His chapbook Body Parts was published by the South Carolina Poetry Initiative in 2007.
has lived in Travelers Rest, South Carolina, with his wife, Barbara, since 1977. He teaches at Furman University. His collections of poems are
Threads & Dust (Finish­ing Line Press, 2005). Her poems have been published in numerous journals, including The Pacific Review, Quercus Review, Snowy Egret, and Switched-on Gutenberg. In 2004 she won a William Stafford Award from the Washington Poets Association.
is the author of the collection of poems
Niederngasse. Her poetry has been published in Envoi, Orbis, The Pedestal, Rattle, Smiths Knoll, and Poetry Ireland. Her first full collection of poetry, The Desecration of Doves, is available online.
lives in Venice, Italy, where she coedits the Italian edition of
What if your mother; among her prose books is Grace Paley's Life Stories: A Literary Biography. Her work has appeared recently in print and online in 5AM, The Persimmon Tree, White Ink, Bridges, Umbrella, ARM Journal, and Passager; more is forthcoming in journals and anthologies.
's most recent book is the poetry collection
Cumberland Poetry Review, North Dakota Quarterly, The Antigonish Review, and Hidden Oak Poetry Journal. She is a former copy editor on The Atlanta Journal-Constitution and has articles published in Atlanta Magazine. Her father passed away after struggling with dementia for several years.
's poems have appeared in
Crab Creek Review, and publisher of the Concrete Wolf Poetry Chapbook Series and the Late Blooms Poetry Postcard Series. She is the author of two collections, Chicken Farmer I Still Love You (D-N Publishing) and Dance From Inside Her Bones (Snake Nation Press). Visit her website to read more of her work.
is a manuscript consultant, a workshop facilitator, poetry editor of
One Oar won first place in the poetry category of Writer's Digest 12th Annual Interna­tional Self-Published Book Awards.
began writing for solace and sustenance during her husband's seven-year struggle with Alzheimer's disease. Her poetry collection
Berkeley Daily Planet, has published several poems in literary magazines, and is working on a collection of stories about teaching. She just retired after thirty-five years of teaching in the Berkeley, California, public schools.
is a freelance writer who writes for the
Horses and the Human Soul (2004), History and Geography (1989), and Trying to Be an Honest Woman (1985). Her most recent publication is a chapbook of poems: Postcard from the Bottom of the Sea (2008). Her Lifesaving: A Memoir won the 2001 Lambda Book Award and was a finalist for the PEN/Martha Albrand Award for the Art of the Memoir.
is the author of three volumes of poetry:
What the Heart Weighs, was published by Red Hen Press in late 2004. His second book, Young Girl Eating a Bird, was published by Red Hen in 2006.
is a Los Angeles–based poet whose first book,
One Hand on the Wheel (Heyday Books, 2003), Buried Treasure (Cleveland State University, 1999), and Practice (Sixteen Rivers Press, 2008). His poems and translations from Spanish have appeared in Poetry, Ploughshares, The Threepenny Review, The Village Voice, and other journals and anthologies.
lives in San Francisco and has published three books of poetry:
Here from Away (CustomWords) and the editor of Umbrella, an online poetry journal.
Bruce Berger's poems have appeared in Poetry, Barron's, and Orion and have been collected in Facing the Music. His prose works include The Telling Distance, winner of the Western States Book Award. His recent Oasis of Stone won the ForeWord Silver Award. As a relief from words, he plays benefit classical piano concerts in Mexico.
is the author of the poetry collection
Green, in November 2003. Her poetry has appeared most recently in Atlanta Review's 10th Anniversary Anthology, The Spoon River Poetry Review, Midwest Quarterly, Heliotrope, Permafrost, Rhino, and The MacGuffin.
teaches at Kalamazoo Valley Community College. Finishing Line Press published her poetry chapbook,
Lessons in Space (Uni­versity of Florida Press, 1997), Bad Judgment (Sarabande Books, 1999), and Sleep­ing with a Famous Poet (CustomWords, 2007). Her awards include The Nation Discovery Award, and a Pushcart Prize. She holds the Tucker Thorp Professorship at Rhode Island College, where she directs the creative writing program.
is the author of three books of poetry:
Pacing the Moon (Chantry Press) and Crossing without Daughters (March Street Press).
changed careers after twenty years of working as a pro­fessional librarian and became a registered nurse, working in hospice. Next to family, poetry has always been her greatest love. She has published three books of poems, including
is a writer and producer of documentaries for radio and tele­vision. She received a 2004 Fiction Fellowship from the New York Foundation for the Arts (NYFA) and is working on a short story collection and a novel. She was born in Bombay, India, and currently lives in New York.
Press & Sun Bulletin in Binghamton, New York. Her memoir, The House on Beartown Road: A Memoir of Learning and Forgetting, published by Random House in 2003 (now in paperback as The Family on Beartown Road: A Memoir of Love and Courage), is a chronicle of the year she spent caring for her father, who had Alzheimer's disease, and her infant daughter in a remote farmhouse in upstate New York.
is a reporter for the
Spine, appeared in 2000; the second, Like Father Like Son, a collabora­tion with the poet Earl Coleman, came out in 2007.
writes poetry, fiction, and creative nonfiction, makes music and photographs, and produces various other forms of visual art. Under the pen name A. D. Coleman, he is an internationally published critic, historian, and curator of photography. His first collection of poetry and prose poetry,
Conversations with Friendly Demons and Tainted Saints (Puddin'head Press, 1999) and coedi­tor of Inhabiting the Body: A Collection of Poetry and Art by Women (Moon Journal Press, 2002). Her published work appears in the anthologies Visiting Frost (University of Iowa Press, 2005) and Poetic Voices Without Borders (Gival Press) and various literary journals. She has received awards from the Illinois Arts Council and the Illinois State Poetry Society.
, a Chicago social worker, is the author of
Another Circle of Delight, Femme au chapeau, and Earth Lessons. Her poetry CDs are A God You Can Dance and Singing in the Pandaleshwar Caves. She serves as contributing poetry editor for Umbrella and as a staff member of the Alsop Review. More of her work can be read online.
has three poetry collections,
Sojourn, TimeSlice, Suddenly, Echoes for a New Room, Natural Impressions, The Texas Poetry Calendars, the 2008 Women Artists Datebook, and The Weight of Addition Anthology. She was a finalist award winner in the PEN Texas competition and has received grants from the Texas Commission for the Arts. She is currently working on a book of memoir essays.
's poems have been published in
Shenandoah, Calyx, Stringtown, Northwest Review, and Chrysanthemum, as well as in the anthology Limbs of the Pine, Peaks of the Range. She was a finalist in the 2005–6 Seattle Poet Populist competition.
is on the board of PoetsWest and is membership chair of Washington Poets Association. Her poems have been published in journals such as
Coal City Review. His most recent book of poetry is Senegal Blues (219 Press, 2003), and he has a new book coming out: From the Inside Out: Sonnets (Woodley Press, 2008). He has taught in England, Senegal, Zambia, and Japan.
teaches at the University of Kansas, Lawrence. He edits
Never Been To Utah. He has published poetry in Beloit Poetry Journal, The Laurel Review, Passages North, Poetry Northwest, and The Seattle Review. His chapbook, The Reservist, appears from Pudding House Press.
teaches high school and plays in the rock 'n' roll band
Faultline, UC Irvine's literary journal. She is also one of the founding members of the Casa Romantica Poetry Reading Series, which is a committee of local southern California writers who organize monthly poetry readings in south Orange County.
is a native Californian who received her MFA from the University of California, Irvine, in June 2003. She was the managing editor for volume 12 of
Cape Clear: New and Selected Poems. He is writer-in-residence at Phillips Academy in Andover, Massachusetts, and teaches in the Stonecoast MFA program. His work has been recognized with NEA grants and a Pushcart Prize.
is the author of four collections of poems, most recently
Strangers to Their Courage, from Louisiana State University Press (2001), was a finalist for the Washington Book Award. She teaches at Peninsula College in Port Angeles, Washington, where she is codirector of the Foothills Writers' Series.
has three collections of poems. The most recent,
lives on Maryland's eastern shore. She has published poems in many national journals and newspapers. Her manuscript "Gratitudes" continues to look for a publisher.
Proposing on the Brooklyn Bridge, Animus, Calliope, The Onset Review, New Bedford Magazine, and many other publications. She has worked as an advertising copywriter and been writer-in-residence in several schools in southeastern Massachusetts.
's poems have appeared in the anthology
Bird Missing from One Shoulder (WordTech Editions, 2007). She was the 2005 Poetry Fellow for the South Carolina Arts Commission and served as the 2003–4 poet-in-residence for the Gibbes Museum of Art in Charleston, South Carolina. A recipient of the poetry fellowship of the South Carolina Academy of Authors, she was recently elected to the Academy's Board of Governors.
is the author of four collections of poetry, mostly re­cently
Moon Crossing Bridge, Amplitude: New and Selected Poems, and, most recently, Dear Ghosts, all of which are available from Graywolf Press. She lives in Port Angeles, Washington.
's caregiving of her mother spanned nearly seventeen years, during which her mother suffered a stroke and eventually entered dementia and Alzheimer's. She recognizes this period as one of the strongest, most formative of her life. She is a poet, fiction writer, essayist, screenplay writer, and transla­tor. Her poetry collections include
MARGIE, CALYX, Harpur Palate, Georgetown Review, and Water-Stone Review.
has long served Colorado students as a teacher and adminis­trator. An ardent supporter of the arts, she has been the recipient of numerous honors, including the Governor's Award for Excellence in the Arts and Humani­ties. Recently, the University of New Mexico recognized her writing with a D. H. Lawrence Fellowship. Her award-winning poems have appeared in
Blood and Bone from University of Iowa Press, and his book, Walking the Pan­ther, was published by Northwoods Press in 1984. He was awarded the William Stafford prize in 2003 by the Washington Poets Association.
is a neurologist and poet based in Seattle. He has published work in many poetry and medical journals. His work appears in the anthology
The Sun Magazine, We'Moon Calendar books, and Southern Distinctions Magazine. She has just completed a memoir, Riding the Elephant, An Alzheimer's Journey.
is a writer and photographer who lives and works in the moun­tains of Virginia. Her work has appeared in many publications, among them
The End of Forgiveness, is available from Floating Bridge Press.
lives in Longview, Washington, where he has taught English at Lower Columbia College for the last twenty-two years. A chapbook of his poems,
What Else Is There from Main Street Rag. His work has appeared recently in Hubbub, South Carolina Review, and Journal of the American Medical Association.
is an Australian-born poet, playwright, and musician, who has been a U.S. resident since the late 1970s. His latest book is
The Collecting Jar won the 2004 Grayson Books Poetry Chapbook Competition. He has been a stay-at-home father, worked as a substitute teacher, written scripts for Garrison Keillor, taught Latin to Catholic seminarians, and led a writing group for secular homeschoolers.
's poetry chapbook
has lived near Geneva, Switzerland, for eight years. Her poems have appeared in literary journals in Europe. She travels often to the United States to help care for her father.
The Night Marsh. She has received fel­lowships from the New Jersey State Arts Council and the Dodge Foundation and a prize from the Poetry Society of America. Her poems in American Nature Writing 2002 won the William O. Douglas Nature Writing Award.
's latest book of poems is
Analytic Entrapment (American Imago) and Irena Klepfisz, Loss and the Poetry of Exile (Journal of Poetry Therapy). She teaches writing in Cancer Lifeline's Healing Arts Program and cares for her husband, Abe, a retired pathologist, who now has Alzheimer's.
writes in Seattle, Washington. Her most recent publications include
Pequod, Lullwater Review, Passager, Eleventh Muse, and America.
, a McDowell Colony Fellow and a graduate of the Writing Seminars, is the recipient of a Maryland State Arts Council Award. Her poems have appeared in several journals, including
Wild Gratitude (1986), which won the National Book Critics Circle Award, and Lay Back the Darkness (2003). He has also published four prose books, including How to Read a Poem, a national bestseller, and Poet's Choice (2006). He is president of the Guggenheim Foundation.
has published six books of poems, including
Alehouse, Ekphrasis, Fresh­water, Harpur Palate, The High Desert Journal, and others. Her work is included in two anthologies, Women's Encounters with the Mental Health Establishment and Regrets Only. The poem included in this volume won the 2K3 Poetry Award from the Peralta Press, where it was first printed. The IRS considers her poetry a hobby, not work.
has published in small journals such as
Boxing the Compass won the 2007 Floating Bridge Press chapbook award. Her poems have appeared in various literary magazines and several anthologies, most recently Dancing with Joy: 99 Poems (Random House). A graduate of the Rainier Writing Workshop MFA program, she co­directs the Convergence Writers Series at Edmonds Community College.
's chapbook
Tar River Poetry, miller's pond, Iconoclast, The Modern Review (Canada), Coffee House (UK), Flint Hills Review, Canter Collected, Rosebud, HazMat Review, The Comstock Review, Tar Wolf Review, and Pearl. She has three chapbooks and a full-length collection, Night Traveler (Foothills Publishing, 2003), and is the writer-in-residence and director of the arts minor program at St. John Fisher College.
lives on a small farm near the shore of Lake Ontario. Her poems have appeared in
Nothing Between Us Now But Love, which recounts his mother's struggle with Alzheimer's. Other poems and essays of his on this theme can be found in Healing Muse, Ars Medica, Confrontation, and Conte Online.
lives in Rock Springs, Wyoming, where he directs the honors program at Western Wyoming College. "Prayer for My Mother" is part of the collection
The Women's Review of Books, The Georgia Review, Zone3, and Blueline, among others. She won first prize in the Beullah Rose Poetry Contest, sponsored by Smartish Pace, and the Robert Penn Warren Award (First Prize) from New England Writers. Her chapbook Rising and Falling won the Foothills Poetry Chapbook Competition. She lives in Marblehead, Massachusetts, and teaches in the Lifelong Learning Program at Salem State College.
has published reviews and poems in
American Fiction (vol. 3), An Inn Near Kyoto (a travel collection), and Marlboro Review. Her short story, "Here I Am," provided the title for a collection from the Jewish Publication Society that won an Oakland PEN award. She writes periodically for the San Francisco Chronicle about her husband's journey through Alzheimer's.
has written short fiction for
Light Lowering in Diminished Sevenths won the 2007 Litchfield Review Book Award in poetry and will be published in 2008 by the Litchfield Review Press. She has published poetry in numerous print and online journals. She is also the author of a critical study, King Lear and the Naked Truth (Duke, 1998). She teaches in the creative writing department at University of California, Riverside.
's second full-length collection of poetry
Geist magazine and writes a monthly column for Xtra West, Vancouver's lesbian and gay newspa­per. She has created short documentaries for CBC Radio, and her articles have appeared in the Globe and Mail and Vancouver Review, as well as a number of anthologies. She is working on a graphic memoir about her mother dying of Alzheimer's. Sarah's drawing and writing can be seen online.
regularly contributes writing and comics to
Writer's Digest's annual competition. Her poetry received second place in the Pacific Northwest Writers Association's annual contest. Her publication credits include Potomac Review, Mid-American Poetry Review, Flyway, and Rambunctious Review. She resides in Walpole, Massachusetts, with her husband and two daughters.
is the 2005 Grand Prize winner for
Literary Mama Magazine online. Her book Early Stages: A Biologist's Tale of Mothering and Daughtering is forthcoming (Touchstone/ Simon & Schuster, 2009).
writes and edits science and creative nonfiction in Berkeley, California. Her "Mama in the Middle" columns on caregiving and parenting can be found in
Escaping the House of Certainty (2006). She is a recipient of fellowships from the Guggenheim, Rockefeller, Fulbright, and Witter Bynner foundations; from the National Endowment for the Arts; and from the North and South Carolina Arts Commissions. She has represented the United States at writers' meetings in France, Belgium, Canada, and Yugoslavia.
is professor of English at Winthrop University. Her published books include seven titles from Louisiana State University Press, most recently
Southeast Review, The Chiron Review, and The Kali Guide. She was the featured poet in re)verb #2.
recently received her MFA in poetry from Southern Illinois University, Carbondale, and currently lives in California. She has poems pub­lished in
The Buried Houses, The Country I Remember, Arrivals, and the verse novel Ludlow. His collection of essays The Poetry of Life and the Life of Poetry appeared in 2000, and he has coedited several textbooks and anthologies, including Western Wind: An Introduction to Poetry, Twentieth Century American Poetry, and Rebel Angels: 25 Poets of the New Formalism. A native of Washington state, Mason teaches at The Colorado College.
's books include
Southern Poetry Review, Cumberland Poetry Review, Chattahoochee Review, Valparaiso Poetry Review, Poem, Illuminations, and A Millennial Sampler of South Carolina Poets (Ninety-Six Press).
was a winner in the 2004 Piccolo Spoleto Short Fiction Open. His poetry has been nominated for a Pushcart Prize and has appeared in
The One Who Swears You Can't Start Over, from Salmon Poetry in Ireland. She has published work in numerous journals and anthologies and is a past recipient of a Minnesota State Arts Board Fellowship in Literature. She earned her MFA from Warren Wilson College in 2004 and lives with her two teenage sons in Minneapolis.
's second book of poems is
's poems began appearing in literary journals in the 1990s, but after moving to Massachusetts, he concentrated on painting. In 2004 Stephen began experimenting with poetry/art hybrids, creating award-winning e-books such as "Heroines Unlikely." In 2006 he released a CD of poems set to music "Safe & Other Love Poems" as well as three DVDs. In 2007 print editions of his work were distributed online.
Paterson Literary Review, Wetlands, Literary Mama, Bus Poems, Voices in Wartime, Milk of Almonds, Feminist Press, In Praise of Farmland, and Mute Note Earthward. In 2004 she received the Crosscurrents Poetry Prize from the Washington Community College Humanities Association.
teaches psychology at Cascadia Community College. Her writing has been published in
Bellingham Review, the National Writers Union, Americas Review, and the Red Rock Review, as well as several Pushcart nominations. "The Photographer's Father," an hon­orable mention for the Randall Jarrell Poetry Award, appears in her chapbook Passion, which received the 2000 Oregon Book Award for Poetry. Red Jess, her first full-length collection, appeared in 2006 from Cherry Grove Collec­tions; Pulse & Constellation, a finalist for the Finishing Line Press Chapbook Competition, appeared in June 2007.
's poems have received prizes from the
Valparaiso Poetry Review and Appalachia, as well as the anthologies Francis and Clare in Poetry, Washington State Poets, and Northwind. She earned an MFA in creative writing from the Rainier Writing Workshop, Pacific Lutheran University. Her book A Long Remembering: Return to Vietnam was published by Foothills Publishers in 2006.
's work has appeared in various journals, including
That Mass at Which the Tongue Is Celebrant, Pecan Grove Press, 2007), won a major prize in science fiction, has been nominated for a Pushcart for an essay, and published much other fiction and nonfiction for children and adults.
is a writer, songwriter, storyteller, and university lecturer at Santa Clara University in Silicon Valley. He has published over one hundred poems, won a prize in a poetry contest judged by John Updike, has a poetry chapbook (
has been a professional writer for more than fifteen years, working as a journalist, publicist, and poet who often collaborates with artists to combine the written word with visual art. She lives on the central Oregon coast.
Reed, Pool, Runes, The Paterson Literary Review, and Poetry International. He has published three collections: Talking Back to the Rocks, In the Bee Trees—which was a finalist for the PEN Center USA Award in poetry—and Memory and Rain (Red Hen Press, 2008).
's poetry has appeared or been reviewed in
The Pen Woman Magazine, a National League of Ameri­can Pen Women (NLAPW) publication. She is a member of the NLAPW, the Society of Southwestern Authors, Trinity Writers Workshop, and the Abilene Writer's Guild.
was born in Marysville, Kansas. She graduated from South Dakota State University in 1979. She has had eleven books of poetry published in addition to more than 4,500 individual poems, articles, and short stories. She is the essay editor of
A New Resonance II, and published six chapbooks. Her most recent chapbook is a tanka sequence about her father's journey into Alzheimer's disease, entitled Limbs of the Gingko (Swamp Press, 2005).
is a teacher of English at the Dalton School in New York City. She has published haiku and tanka in a variety of international journals, been featured in the annual Red Moon Anthology since 1998, been anthologized in
22 Across: A Review of Young Writ­ers. His poetry has appeared in The Gettysburg Review and the North American Review, among other journals. He is the recipient of a Literature Fellowship in Poetry from the National Endowment for the Arts and is the author of A House That Falls (Slapering Hol Press) and Oblivio Gate (Southern Illinois University Press), which won the Crab Orchard Award Series First Book Prize.
teaches for Arizona State University, where he is the assistant director of the Young Writer's Program and coeditor of
ImageArt, Knocking on the Silence, and Common Intuitions. Maureen's first book of poetry She Sleeps With Dogs was published by Foothills Publishing. She lives with her two greyhounds in Seneca Falls, New York.
received her MFA in creative writing from Antioch Univer­sity, Los Angeles, and earned her BA in literature from SUNY Binghamton. Her poetry has been anthologized in
descant's 2006 Baskerville Publishers Poetry Prize. His first book of poems, Editing Sky, was winner of the Texas Review Poetry Prize and was a Violet Crown book award finalist. Color of Mourning, his latest collection, was released in 2007 from Texas Review Press/ Texas A&M University Press.
is recipient of a NEH Dante Fellowship (SUNY), the French/ American Legation Poetry Prize, and
Crab Orchard Review, Ploughshares, Runes, Rattle, and others. She lives in the Los Angeles hills.
's poetry is preoccupied with issues of memory, accountability, and the natural world. Her poems have appeared or are forthcoming in such journals as
The Wild Awake (Confluence Press), Blood-Silk (Quiet Lion Press), and A Bride of Narrow Escape (Cloudbank Books). A former Stegner Fellow at Stanford University, she serves on the board of Friends of William Stafford, organizing the January Stafford birthday events.
's poetry books are
The Plains Song Review, Home and Other Places, and The Quarterly. He is coauthor of Theme Exploration: A Voyage of Discovery. His mother passed away after a fifteen-year battle with Alzheimer's.
is an educator in Mattawan, Michigan. His work has appeared in
The Ethics of the Sages: An Interfaith Commentary on Pirke Avot (Rowman & Littlefield, 2000) and Every­thing Has Two Handles: A Stoic's Guide to the Art of Living (Hamilton, 2008).
, is a physician in the department of psychiatry at Tufts University School of Medicine. He is the author of a collection of short stories (Zimmerman's Tefillin/PublishAmerica) and a book of poetry (Creeping Thyme/ Brandylane Publishers). He is also the author of
Forms of Intercession (Mayapple Press, 2008) and two chapbooks, Local Girls (Dead Mule, 2007) and Primitive (Pudding House Press, 2004). She resides near Richmond, Virginia.
holds an MA in counseling psychology and has spent most of her professional life in the field of mental health. Her fiction and poetry have ap­peared in numerous print and online literary journals. Her poems have twice been nominated for the Pushcart Prize. She is the author of one book of poems,
The Pie in Pieces: Thirty-Three Songs from the Midwest, was published by River Man. In 2007 he won honorable mention in the Michigan Liberal Arts Network poetry contest.
lives in rural Michigan with his wife, Lori, and their daughter, Issabella. His first chapbook,
The Disappearing Trick (University of Illinois Press, 2006). He won numerous awards for his poetry, including a Guggenheim Award, two National Endow­ment for the Arts Awards, and a National Endowment for the Humanities Award. A Fulbright Scholar, his book of translations Before and After the Fall: New Poems by Sandor Csoori was published by BOA Editions in 2004. Len Roberts passed away in 2007.
was the author of twelve books of poetry, the most recent being
A Sock Is a Pocket for Your Toes (HarperCollins, 2004). Her poems have been published in numerous literary journals. She teaches creative writing at Austin Community College. The poem in this collection is from a series of Alzheimer's poems Scanlon wrote in honor of her grandmother, Kaye Spelletich Getz, 1918–2001.
lives in Austin, Texas, and is the author of
was born in Chicago and was educated in the Heartland as well as on both coasts. He retired several years ago from life as a teacher, program manager, and editor to write poetry and feed hungry street folk. He lives in Berkeley, California.
The Atlantic Monthly, The American Scholar, Prairie Schooner, and The Gettysburg Review, among other journals, and in the anthologies Poetry Comes Up Where It Can (University of Utah), Blood to Remember: American Poets on the Holocaust (Time Being Books), and Beyond Lament (Northwestern). Recipient of the New Letters Poetry Prize and the Anna Davidson Rosenberg Award, she coauthored Peach Girl: Poems for a Chinese Daughter (Grayson Books).
's poetry has appeared in
Paper Street, Kaimana, Malamalama, The Chaminade Literary Review, Poetica, Bridges, and Jewish Affairs (South Africa).
is professor of English and assistant vice chancellor for academic affairs at the University of Hawaii at Hilo. Her mother and father died within a month of each other in 2005, her mother of Alzheimer's and her father of vascular dementia. In addition to numerous academic articles on modern literature and film, she has published poetry in literary journals including
The Sylvan Echo. Barbara lives in Saint Joseph, Michigan, where she is a studio artist for the Box Factory for the Arts.
earned an MFA in creative nonfiction from Antioch University, Los Angeles. She is an Amherst Writers and Artists Affiliate and a nonfiction editor for
Food for the Journey, came out from Cherry Grove Collections in August 2008.
, known mainly as a poet/teacher, has also been a painter for over forty years. He teaches at University of California, Santa Barbara, was named the first poet laureate of the city of Santa Barbara in 2005, has published nine poetry collections, and has brought out three poetry-reading CDs and two novels. Over four hundred individual poems appear in paper and pixel journals. His tenth book of poems,
Poor Mojo's Almanac(k), Spinning Jenny, and Lady Churchill's Rosebud Wristlet.
lives in Michigan and teaches high school. Her writing has appeared in
Comstock Review, Orion, The Larcome Review, and the Saltmarsh Press anthology Rough Places Plain: Poems of the Mountains.
teaches English at the Pingree School in South Hamilton, Massachusetts, and lives with her husband in nearby Manchester-By-The-Sea. She is a member of Barbara Helfgott Hyett's Workshop for Publishing Poets in Brookline, Massachusetts. Her work has appeared previously in the
Catching the Limit was published by Bedbug Press (2008) as part of their Northwest Poetry Series. His work has appeared in Caro­lina Quarterly, CutBank, Natural Bridge, Pedestal Magazine, and Pennsylvania Review, among others. He received his MFA from the University of Oregon and teaches English in the public schools.
's book
The Fraternity of Oblivion (Timberline Press, 2008) and New and Selected Poems (TCU Press, 2008). His poetry received the 2004 Violet Crown book award (Writers' League of Texas), 2003 Western Heritage Award (Western Heritage Museum, Oklahoma), and Texas Review Poetry Prizes in 2001 and 2004. In April 2007 he was appointed the 2008 Texas Poet Laureate.
has published seven collections of poems and has two additional collections in press:
American Poetry Review to Writers' Forum; several anthologies; and four collections, most recently On John Muir's Trail, from Bear Star Press, and To the Archeologist Who Finds Us, from Turning Point Books. He lives with his wife, Linda, on San Juan Island in Washington state.
's poems have been published in a wide range of magazines, from
Prairie Schooner, Texas Review, New Delta Review, The New York Quarterly, Passages North, South Dakota Review, Spoon River, The Louisville Review, Tar River Poetry, Story South, Southeast Review, and others. Currently he teaches at Louisiana State University.
holds an MFA from the University of Florida. His poems have appeared in
Contemporary American Poetry: Behind the Scenes (Allyn & Bacon/Longman, 2003). He teaches creative writing and literature at Clemson University.
's most recent books include a creative writing textbook,
In the Middle of the Middle West (Indiana University Press) and poems anthologized in Illinois Voices: An Anthology of Twentieth-Century Poetry (University of Illinois Press), Poets of the New Century (David R. Godine Publisher), and Manthology (University of Iowa Press). Glacier Fire, her latest book, won the Word Press Poetry Prize.
is distinguished professor of English and poet-in-residence at Kennedy-King College, Chicago, and is a National Endowment for the Arts Fellow. Her recent work includes an essay in
The First Pressing: Poetry of the Everyday. The profits from her book are donated to Alzheimer's causes.
's poetry has been published in anthologies and literary journals for over fifteen years. She has been awarded several prizes and was nominated for a Pushcart Prize. She has published a book of her poetry,
Crybaby Ranch was published in the summer of 2006. She is a faculty member of the Jackson Hole Writers Conference.
writes in Jackson Hole, Wyoming. She has published essays and short fiction. Her novel
Kalliope, Salamander, Calyx, Small Pond Magazine, Copper Nickel, a women's studies textbook, and other venues. Her chapbook Failing Better was a finalist for the 2004 Colorado Book Award in poetry.
was born in Rochester, New York, and has taught at the University of Colorado at Denver since 1990. Her poetry appears in
Proposing on the Brooklyn Bridge. In 2004 she was awarded a prize in the Boston Herald's Community Poetry Contest, and in 2007 in the Northwest Cultural Council's competition and the American Literary Review's competition. Also in 2007, she was a finalist in Inkwell's competition. She has edited two poetry anthologies, Mercy of Tides: Poems for a Beach House (2003), and Rough Places Plain: Poems of the Mountains (2006).
's poems have appeared in a number of journals and sev­eral anthologies, including
Happy Hour at the Two Keys Tavern, won the 2007 Society of Midland Authors Literary Competition and was also named 2006 Kentucky Book of the Year in Poetry at the Southern Kentucky Book Fest. His poems have appeared in The Threepenny Review, Poetry Northwest, The Georgia Review, New England Review, Shenandoah, The Southern Review, and elsewhere. He works at the University of Kentucky.
's third book,
Hands, The Dream of a Moral Life, Days, Braver Deeds, winner of the Peregrine Smith Poetry Prize, and No Other Life, which won the William Carlos Williams Award. He has twice received fellowships from the National Endowment for the Arts, and other awards include a Pushcart Prize and a fellowship from the National Endowment for the Humanities. He edits for the Greenhouse Review Press from Santa Cruz, California.
's books include
Traveling in Reflected Light was released as a Kenneth Patchen competition winner from Pig Iron Press. Her chapbook Greatest Hits 1991–2001 is part of Pudding House's archival series. She is features editor at PoetryMagazine.com
was born and raised in Pittsburgh, Pennsylvania, and earned degrees at the University of Pittsburgh. She now lives and teaches writ­ing in Oakland, California. Her full collection
Snowy Egret, Pudding, Concrete Wolf, Ab Intra, the anthologies Fresh Water and Do Not Give Me Things Unbroken, and Tree Magic, a CD.
is a clinical psychologist in Watertown, Massachusetts, and has been writing poetry for thirty years. Her poems have appeared in
Little Ship of Bless­ing (Poets Corner Press) and The Battered Bride Overture (Rattlesnake Press), she was a founding editor of The Tule Review and a coeditor (1984–95) of Poet News. Recipient of a 2008 Resident Fellowship from the Virginia Center for the Creative Arts, Zeppa is also one-fifth of Cherry Fizz, a quintet specializing in loose and unlabeled a cappella music.
's poems have appeared in a variety of print and online journals and in several anthologies. The author of two chapbooks,
---