Photos from readings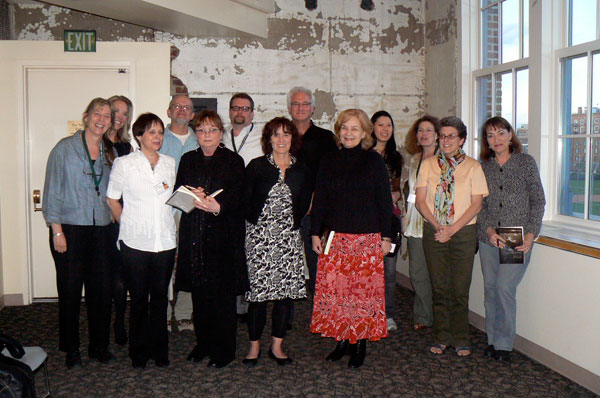 The largest Beyond Forgetting reading yet took place in Denver in April 2010:
(left to right) Holly Hughes, Drew Myron, Linda Annas Ferguson, Rick Kempa, Andrena Zawinski, Sean Nevin, Lorene Delany-Ullman, Jim Natal, Carolyn Dahl, Arlene Ang, Nina Corwin, Catherine Wiley, Rachel Dacus.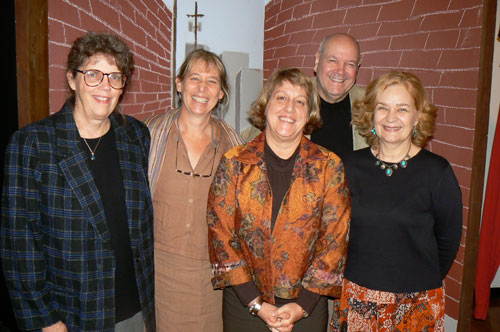 Reading at St. Thomas University in Houston, TX on Nov. 4, 2009.
Sheryl Nelms, Holly Hughes, Janet Lowery (poet in residence), David Parsons, who organized this reading, and Carolyn Dahl. The reading was sponsored by Montgomery County Literary Arts Council; another reading was held at Lone Star College on Nov 5. This reading was a benefit for the Alzheimer's Association of South Texas.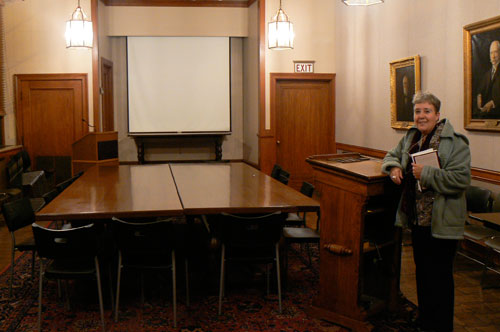 Reading at CaseWestern Reserve Medical School Oct. 20, 2009.
Tess Gallagher (pictured here), Jan Harrington and Holly Hughes spent an exhilarating evening discussing Beyond Forgetting with physicians and medical students.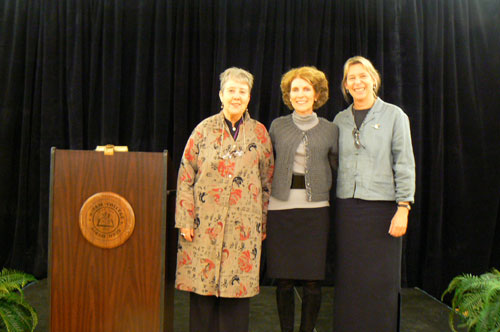 Reading at Hiram College, Hiram, Ohio October 19, 2009.
Tess Gallagher, Jan Harrington, Holly Hughes. Jan Harrington came all the way from Geneva, Switzerland to join us!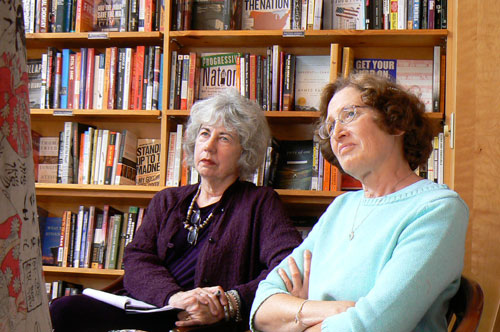 Reading at Looking Glass Books in Portland, OR Sept. 19, 2009.
Paulann Peterson (who organized the event) and Alice Derry listen as Tess Gallagher (not pictured) reads from her Foreword.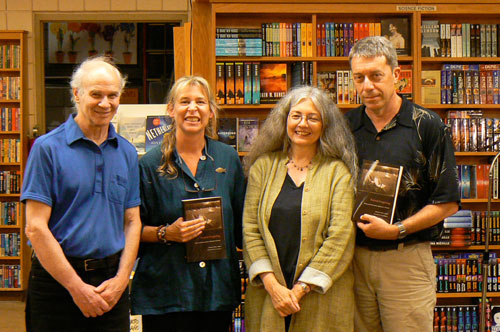 Reading at Moe's Books in Berkeley, CA Sept. 10, 2009.
Richard Silberg of PoetryFlash, Holly J. Hughes, Joyce Jenkins, of PoetryFlash, Dan Bellm, contributor and organizer of the event. Others who read were Timothy Myers, Mary Zeppa, Andrena Zawinski, Peter Seidman, Sybil Lockhart and Persis Knobbe.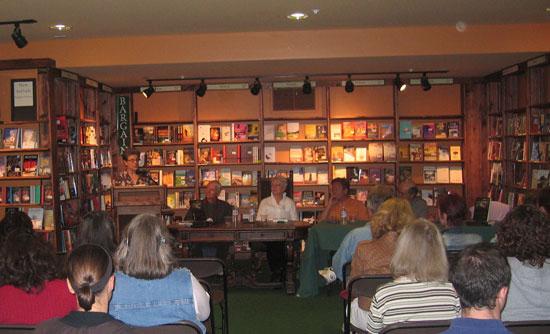 Reading at Tattered Cover Books in Denver, CO on June 8, 2009.
Cate Wiley, Bruce Berger, Madelyn Garner, David Mason and Rick Kempa-with thanks to Madelyn Garner for organizing the reading-and to Linda Arnold for the photo.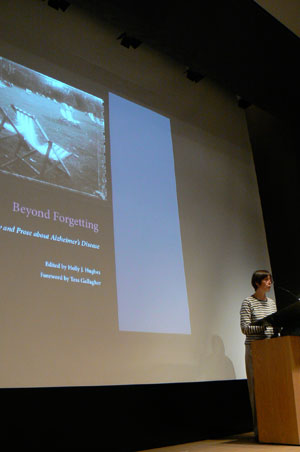 Book Launch Reading at the Frye Art Museum in Seattle, WA May 3, 2009.
Mary Jane Knecht, director of Public Programs at the Frye introducing the reading where the following ten contributors read, along with Tess Gallagher and Holly Hughes: Jane Alynn, Lana Hechtman Ayers, Joanne Clarkson, Nancy Dahlberg, John Davis, Alice Derry, Arthur Ginsberg Joseph Green, Esther Altshul Helfgott, Denise Calvetti Michaels, Kay Mullen.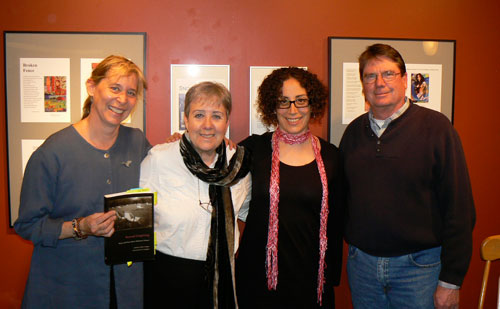 Reading at Village Books in Bellingham, WA April 25, 2009.
Pictured at the first reading for Beyond Forgetting are Holly J. Hughes, Tess Gallagher, Sarah Leavitt and Gary Thompson
View photos from the symposium "Unlikely Light: Poetry and Prose about Alzheimer's Disease" held at Furman University, Greenville, SC April 22, 2009 at the link below. Contributors participating included Gilbert Allen, Linda Annas Ferguson, Diane Porter Goff, Susan Ludvigson and Joel McCollough.
http://www.flickr.com/photos/30408294@N03/sets/72157618537770533/show/
---